Visiting some of Edinburgh's finest pubs
After less than 24 hours in Durham, we headed for Edinburgh for a stay of two nights.  I was excited about visiting Edinburgh's pubs. Not only did the Good Beer Guide App and the Autumn edition of Beer Magazine suggest that many of these pubs were in close proximity to one another, but also that many of them were of historic significance. Conveniently many of them were also near to other tourist attractions!
Pub Number One – Cafe Royal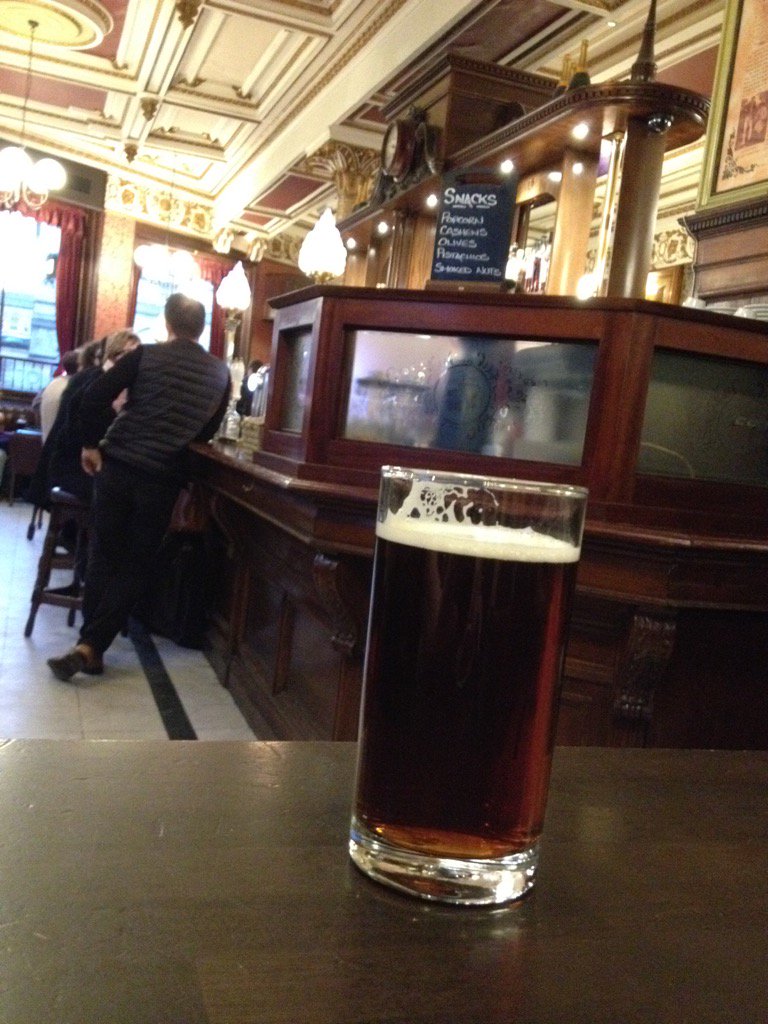 The first pub we encountered on our travels around the city was the architecturally ornate Cafe Royal. This bar also operates as a restaurant specialising in oysters. The bar room was decorated with tiled walls depicting important figures from the world of science and technology. The walls cornices are decorated with gold leaf and the bar is an oval in the centre of the bar room. Everything has an air of French/1930s style. To go alongside this was a quality cask ale range. On offer were:
Stewarts 80 4.4%
Stewarts SRA Best Bitter 4%
Edinburgh Brewery Pale Ale 3.4%
Broughton Dark Dunter 4.8%
We opted for the beers from Stewarts. The first – '80' was a beauty of a malt forward beer. It had soft flavours with a lovely caramel nature in both taste and aroma. The best bitter was of similar nature in that it was well balanced and gentle yet still very flavoursome.
Pub Number Two – The Guildford Arms
Just around the corner from the Cafe Royal is the Guildford Arms. Again, we were greeted with a stunning interior in this packed pub. It appeared to be a popular post work pub and offered a good range of keg beer. Another ornate, extravagant interior with arched windows, moulded gold leaf ceilings and panelled walls. A rather grand Victorian pub!
Beers on offer were:
Stewarts Pentland IPA 3.9%
St Andrews Oatmeal Stout 4.5%
North Blyth Fog on the tyne 4.5%
Fyne Ales Jarl 3.8%
Alechemy Ritual Pale Ale
I opted for Jarl which was in good condition. Fragrant floral aroma with earthy nature; it was hoppy and well balanced with a fruitiness and cleansing finish.
My wife opted for Fog on the tyne. Unusual honey aroma which was also present in the taste; very little else going on.
Pub Number Three – The Stockbridge Tap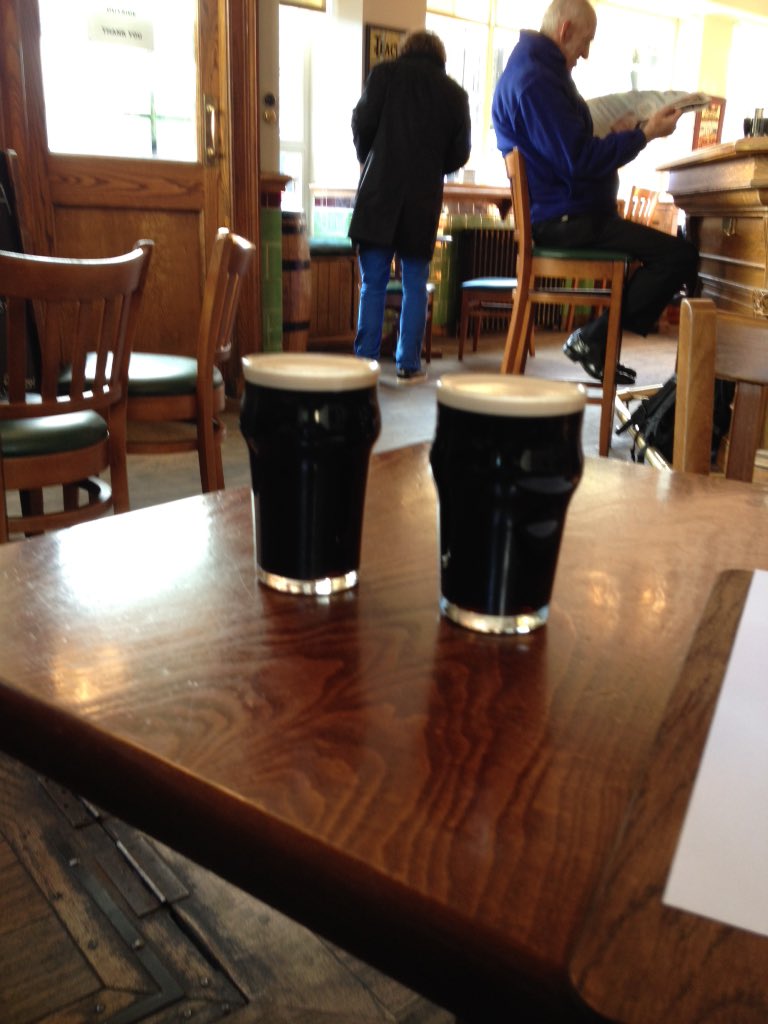 Following a morning stroll in the new town and a visit to the Royal Botanical garden we headed to the nearby Stockbridge Tap.
The interior was light and airy with a mix of wood work, tiles and old brewery mirrors. The light wood work and paintwork made for a contemporary feel. Cask and keg beers were offered in abundance. Here were the cask offerings:
Alechemy Ritual Pale Ale 4%
Swannay Island Hopping 3%
Summer Wine Oregon 5.5%
Salopian Renaissance 5%
Arbor The Devil Made me do it 5.5%
Otley Milk Stout 5%
We both opted for the milk stout. Lovely coffee aroma, smooth and sweet with very little bitterness, served quite cold but seemed to suit the beer. This was a great example of a Milk Stout. The Stockbridge appeared to make for a great local.
Pub Number Four – The Oxford Bar
After this, we headed for the iconic Oxford Bar – famous for its literary connections to Ian Rankin and the Rebus series of books as well as for being a pub which has hardly changed in its appearance over its existence. We were blessed to visit this tiny bar at a quiet time where we could chat to the friendly barmaid and sit by the warm, glowing Victorian fireplace in the side room off the bar. The furniture and fittings looked unchanged. Dark greys and mahoganies covered the landscape of the bar. A traditional pub right down to it's bones my wife read a framed article on the wall stating one of the few changes made under the current landlord was the admittance of previously banned women and Englishmen and woman. The beers on offer were:
Caledonian Deuchars IPA
Stewarts Pentland IPA
Greene King Yardbird Pale
I sought to be traditional going for Deuchars. It was disappointingly bland with very little flavour. My wife went for and thoroughly enjoyed the Pentland IPA which presented itself as another light well rounded delight from Stewarts. In terms of beer offerings this turned out to be a visit more to appreciate the interior than perhaps the beer.
Pub Number Five – Cloisters Bar
After a late afternoon visit to the Castle, we travelled a little out of the centre to the Cloisters Bar – a former parsonage! The bar was busy and full with lively conversation. The beer list was strong (my view of the bottom four beers percentages was obstructed!:
Stewart Pentland IPA 3.9%
Stewart Holygrale 4.4%
Swannay Island Hopping 3.9%
Alechemy Five Sisters 4.3%
Oakham Black Hole Porter 5.5%
Atom Uncertain Principle
Bristol Beer Factory Seven
Jaw Fathom Stout
Anarchy Blonde Star
So a very diverse choice offered. We first tried Five Sisters and Holygrale which were both hoppy session beers but were nothing overly special despite being in good condition.
Our next round saw us try the Fathom Stout which was a lovely traditional stout and the Oakham porter. The Oakham porter was strangely sweet and citrusy, but it didn't feel like a porter. Once again, this pub would make a superb local.
Pub Number Six – The Jolly Judge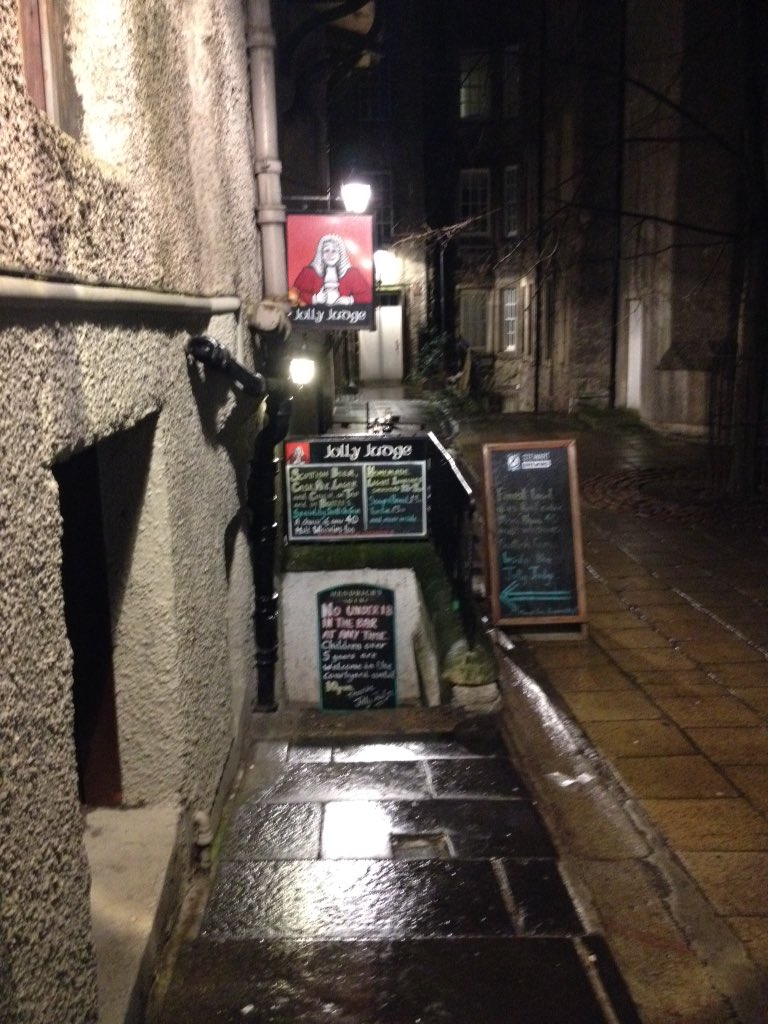 Nestled in a back alley just off the Royal Mile is the small and quaint Jolly Judge. The fire was warming and the welcome was friendly. This pub has a quiet relaxed atmosphere. It had original beams but it looks as though it has had a lot of modernising with leather sofas installed in parts of the pub. We both opted for the Loch Lomond Silkie Stout (I can't remember the other available beers here). This was a lovely easygoing stout.
It was great to visit six great quality establishments each unique in its way in such close walking proximity to one another. Be assured that if you visit Edinburgh, you'll be able to find a good beer.